Brand
12

16

14

64

155

11

10

2

3

6

2

101

2

24

293

93

7

9

1

156

1

63

5

3

1

2399

12

9

4

6

17

4

12

5

149

1434

1270

2

18

2

2

10

2

4

47

134

14

9

18

1688

7

44

3

5

4

92

10

7

13

10

1

1

7

2

1

7

1

35

1

20

17

2

2

1

1

1

8

1

75

1

6

8

1

1

12

13

8

10

1

14

60

198

6

14

2

8

6

2575

1

6

1

89

11

6

9

5

13

18

13

1

2

10

2

5

2

1

3

13

5

13

1

4

11

2

1

24

4
Show value(s)
Size
1

1

1

1

1

1

210

2

2

3

1

1

3

31

4

4

6

3

1

5

22

4

4

5

4

3

4

1

1

1

3

6

4

3

1

3

1

18

19

149

2

1

2

3

3

2

22

1

5

5

4

5

20

4

1

1

1

1

1

22

4

3

2

3

1

1

1

1

153

3

4

1

1

3

2

28

4

4

4

5

2

1

1

27

5

4

6

5

1

1

203

2

9

1

1

10

7

1

2

1

1

2

1

12

17

1

1

2

1

65

2

4

7

1

1

2

1

1

1

54

1

1

1

1

5

1

1

1

1

1

1

1

1

1

6

3

1

4

2

1

1

1

1

1

2

1

1

1

1

1

1

1

1

1

1

2

4

2

1

1

1

1

1

1

1

2

2

2

2

2

2

2

1

1

1

1

1

1

1

1

1

1

1

1

1

1

1

2

1

1

2

1

1

2

1

1

1

1

3

1

1

1

1

1

1

1

1

1

2

1

1

2

3

1

1

3

2

3

1

1

1

1

1

1

5

1

1

1

1

1

1

1

1

1

1

1

1

1

1

1

1

1

1

1

1

1

2

1

1

2

1

1

2

1

1

2

1

1

1

1

2

1

2

1

1

1

2

1

1

1

1

1

1

1

1

2

2

1

1

1

1

1

1

1

1

1

1

5

2

2

1

1

1

1

1

2

1

1

1

3

1

1

2

1

4

1

1

1

1

1

1

1

1

1

1

1

1

1

1

1

1

1

1

1

1

1

4

3

1

1

1

1

1

3

1

1

2

1

1

2

1

1

2

1

1

1

1

1

3

2

2

1

1

2

1

1

1

1

1

3

1

2

1

1

1

1

1

1

1

1

1

1

1

3

1

1

1

1

1

1

1

1

1

1

1

1

1

82

13

10

8

3

1

1

1

1

1

1

19

1

1

1

1

3

5

3

2

4

181

40

4

3

5

2

3

3

22

3

3

2

1

3

1

20

1

1

4

4

15

5

1

1

2

2

3

4

3

2

16

3

1

1

1

1

1

1

1

1

1

2

1

2

4

1

1

2

1

1

1

1

1

1

1

3

1

3

1

2

1

1

1

1

1

2

1

1

1

2

2

1

1

2

2

1

1

1

1

1

1

1

1

1

1

1

1

1

1

1

1

1

1

1

1

1

1

2

1

1

1

1

1

1

1

1

3

2

1

1

1

1

2

2

3

1

1

1

1

1

1

1

1

1

1

1

1

1

1

1

1

1

1

1

1

1

1

1

1

1

3

2

1

1

1

1

135

13

7

5

12

1

1

31

1

1

1

1

1

2

1

1

1

1

1

1

182

4

27

4

6

7

4

1

2

1

1

1

1

1

9

1

2

10

1

76

5

10

16

5

1

2

1

1

17

2

2

2

1

1

2

1

1

2

1

1

1

1

1

1

2

1

1

1

1

1

1

1

3

4

1

3

1

2

1

1

1

1

1

2

1

1

1

1

1

1

1

1

1

1

1

1

1

1

1

1

1

1

1

3

1

2

1

1

1

1

1

1

1

1

1

1

2

1

1

1

6

1

2

1

1

1

1

1

1

6

1

1

1

112

5

1

2

10

28

3

1

1

1

1

1

1

1

1

29

1

2

1

1

1

1

1

1

1

2

3

1

1

1

1

1

1

1

1

1

1

2

2

1

2

3

1

1

1

8

1

1

1

2

12

1

34

6

5

6

3

1

1

20

4

1

1

2

2

5

1

1

1

1

1

1

1

1

1

1

1

1

1

1

1

1

1

1

1

1

1

1

2

1

2

1

1

1

1

1

41

1

1

1

3

5

7

10

5

1

1

1

1

1

1

1

1

1

1

1

1

1

2

1

1

1

1

1

1

1

1

1

1

1

1

1

2

1

1

1

2

2

1

3

1

11

1

1

27

1

2

5

2

6

1

1

1

1

1

1

1

1

1

1

3

1

1

1

1

2

1

1

1

1

1

1

1

2

1

2

1

1

1

1

2

1

1

1

1

2

2

1

1

1

1

1

1

1

1

1

1

1

1

1
Show value(s)
Watts
1

1

1

1

17

2

4

1

1

4

1

1

4

1

1

2

1

1

1

1

1

6

1

4

2

1

1

1

1
Show value(s)
Seer
2

4

2

1

3

1

1

3

3

18

3

3

17

3

12

3

1

1

2

1

21
Show value(s)
Price
(10424)

(1160)

(536)

(269)

(508)

(98)

(47)

(39)

(22)

(123)
Show value(s)
Color
6

11

1

1

1

8

22

1

1

1

1

4

1

2

8

1

1

61

2

1

2

1

1

1

1

2

1

1

5

10

10

1

1

1

1

1

1

1

1

1

1

1

1

1

1

1

1

1

1

1

12

1

10

1

1

2

1

2

1

1

1

1

1

1

4

1

1

1

1

3

1

1

3

1

2

1

1

1

31

4

1

3

1

1

30

1

2

1

1

2

1

1

1

1

1

1

61

2

1

1

1

1

1

1

1

2

1

1

1

1

1

1

10

3

20

1

1

1

1

1

1

1

1

1

1

1

1

1

1

2

1

1

1

1

94

1

2
Show value(s)
Hafele Chippendale Collection Pull in Antique Bronze 116mm W (4-1/2")
$10.81
Features:
Hafele Chippendale Collection Pull
Material: made of Zinc
Finish: Antique Bronze
Screws included
Additional Screws: Use M4 Screws (Sold Separately)
Description:
Update the look and feel of your cabinetry with these modern antique bronze cabinet pulls by Hafele. Part of the Chippendale Collection, these handle pieces are fabricated from zinc and have been individually packed to insulate during delivery and prevent damage in transit. Your home's new look is just a click away.
Dimensions:
(W = side to side) (D = front to back) (H = top to bottom)
Total Width: 116mm (Actual Size), 4-1/2" (Approximate Size)
Total Height: 52mm (Actual Size), 2" (Approximate Size)
Projection: 20mm (Actual Size), 3/4" (Approximate Size)
Center to Center: 96mm (Actual Size), 3-3/4" (Approximate Size)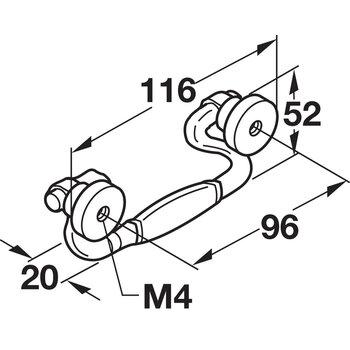 | | |
| --- | --- |
| Weight | 0.16 lbs |
| Dimensions | 4.56 × 2.04 × 0.78 in |
| Brand | |
Best offers
Join Risk Free
30 days refund
100% Safe
Secure Shopping
24x7 Support
Online 24 hours
Free Shiping
On orders over $99

Craft Supply is a diverse wholesale distributor of hardware and fitting systems, plumbing supplies, heating supplies, valves and fittings, waterworks and drainage, faucets and fixtures, tools and other equipment as well as many other specialty products within the industry.
Know More