Brand
12

17

14

64

155

11

10

2

3

6

2

103

2

24

294

100

7

9

1

156

1

63

5

3

1

2471

12

9

4

6

17

4

12

5

149

1435

1201

2

18

2

2

11

2

4

47

134

14

9

20

1693

7

44

3

5

4

92

10

7

13

10

1

1

7

2

1

7

1

35

1

20

17

2

2

1

1

1

8

1

75

1

6

8

1

1

12

13

8

10

1

14

60

199

6

14

2

9

6

2575

1

6

1

89

11

7

9

5

13

18

13

1

2

10

2

5

2

1

3

13

5

13

1

4

11

2

1

24

4
Show value(s)
Size
1

1

1

1

1

1

210

2

2

3

1

1

3

31

4

4

6

3

1

5

22

4

4

5

4

3

4

1

1

1

3

6

4

3

1

3

1

18

19

148

2

1

2

3

3

2

22

1

5

5

4

5

20

4

1

1

1

1

1

22

4

3

2

3

1

1

1

1

153

3

4

1

1

3

2

28

4

4

4

5

2

1

1

27

5

4

6

5

1

1

203

2

9

1

1

10

7

1

2

1

1

2

1

12

17

1

1

2

1

65

2

4

7

1

1

2

1

1

1

54

1

1

1

1

5

1

1

1

1

1

1

1

1

1

6

3

1

4

2

1

1

1

1

1

2

1

1

1

1

1

1

1

1

1

1

2

4

2

1

1

1

1

1

1

1

2

2

2

2

2

2

2

1

1

1

1

1

1

1

1

1

1

1

1

1

1

1

2

1

1

2

1

1

2

1

1

1

1

3

1

1

1

1

1

1

1

1

1

2

1

1

2

3

1

1

3

2

3

1

1

1

1

1

1

5

1

1

1

1

1

1

1

1

1

1

1

1

1

1

1

1

1

1

1

1

1

2

1

1

2

1

1

2

1

1

2

1

1

1

1

2

1

2

1

1

1

2

1

1

1

1

1

1

1

1

2

2

1

1

1

1

1

1

1

1

1

1

5

2

2

1

1

1

1

1

2

1

1

1

3

1

1

2

1

4

1

1

1

1

1

1

1

1

1

1

1

1

1

1

1

1

1

1

1

1

1

4

3

1

1

1

1

1

3

1

1

2

1

1

2

1

1

2

1

1

1

1

1

3

2

2

1

1

2

1

1

1

1

1

3

1

2

1

1

1

1

1

1

1

1

1

1

1

3

1

1

1

1

1

1

1

1

1

1

1

1

1

82

13

10

8

3

1

1

1

1

1

1

19

1

1

1

1

3

5

3

2

4

181

40

4

3

5

2

3

3

22

3

3

2

1

3

1

20

1

1

4

4

15

5

1

1

2

2

3

4

3

2

16

3

1

1

1

1

1

1

1

1

1

2

1

2

4

1

1

2

1

1

1

1

1

1

1

3

1

3

1

2

1

1

1

1

1

2

1

1

1

2

2

1

1

2

2

1

1

1

1

1

1

1

1

1

1

1

1

1

1

1

1

1

1

1

1

1

1

2

1

1

1

1

1

1

1

1

3

2

1

1

1

1

2

2

3

1

1

1

1

1

1

1

1

1

1

1

1

1

1

1

1

1

1

1

1

1

1

1

1

3

2

1

1

1

1

135

13

7

5

12

1

1

31

1

1

1

1

1

2

1

1

1

1

1

1

182

4

27

4

6

7

4

1

2

1

1

1

1

1

9

1

2

10

1

76

5

10

16

5

1

2

1

1

17

2

2

2

1

1

2

1

1

2

1

1

1

1

1

1

2

1

1

1

1

1

1

1

3

4

1

3

1

2

1

1

1

1

1

2

1

1

1

1

1

1

1

1

1

1

1

1

1

1

1

1

1

1

1

3

1

2

1

1

1

1

1

1

1

1

1

1

2

1

1

1

6

1

2

1

1

1

1

1

1

6

1

1

1

112

5

1

2

10

28

3

1

1

1

1

1

1

1

1

29

1

2

1

1

1

1

1

1

1

2

3

1

1

1

1

1

1

1

1

1

1

2

2

1

2

3

1

1

1

8

1

1

1

2

12

1

34

6

5

6

3

1

1

20

4

1

1

2

2

5

1

1

1

1

1

1

1

1

1

1

1

1

1

1

1

1

1

1

1

1

1

1

2

1

2

1

1

1

1

1

41

1

1

1

3

5

7

10

5

1

1

1

1

1

1

1

1

1

1

1

1

1

2

1

1

1

1

1

1

1

1

1

1

1

1

1

2

1

1

1

2

2

1

3

1

11

1

1

27

1

2

5

2

6

1

1

1

1

1

1

1

1

1

1

3

1

1

1

1

2

1

1

1

1

1

1

1

2

1

2

1

1

1

1

2

1

1

1

1

2

2

1

1

1

1

1

1

1

1

1

1

1

1

1

1

1

1

1

1

1

1

1
Show value(s)
Watts
1

1

1

1

17

2

4

1

1

4

1

1

4

1

1

2

1

1

1

1

1

6

1

4

2

1

1

1

1
Show value(s)
Seer
2

4

2

1

3

1

1

3

3

18

3

3

17

3

12

3

1

1

2

1

21
Show value(s)
Price
(10436)

(1155)

(543)

(261)

(515)

(98)

(47)

(38)

(23)

(130)
Show value(s)
Color
6

12

1

1

1

8

22

1

1

1

1

4

1

2

8

1

1

61

2

1

2

1

1

1

1

2

1

1

5

10

10

1

1

1

1

1

1

1

1

1

1

1

1

1

1

1

1

1

1

1

12

1

10

1

1

2

1

2

1

1

1

1

1

1

4

1

1

1

1

3

2

1

3

1

2

1

1

1

31

4

1

3

1

1

30

1

2

1

1

2

1

1

1

1

1

1

61

2

1

1

1

1

1

1

1

2

1

1

1

1

1

1

10

3

20

1

1

1

1

1

1

1

1

1

1

1

1

1

1

2

1

1

1

1

95

1

2

2

2

2

2

1

1
Show value(s)
Hafele Elements Collection Swarovski® Crystal Knob 30mm (1-1/4") Wide
$36.06
Features:
Hafele Elements Collection Swarovski® Crystal Knob
Material: made of Zinc
Finish: Polished Chrome and Swarovski Crystal Elements
Screws included
Additional Screws: Use M4 Screws (Sold Separately)
Description:
The Elements Collection Crystal Knob by Hafele creates a clean and fresh look to your drawers and cabinets. This collection has matching items to coordinate and update your cabinets in your kitchen, bathroom, garage or any cabinetry in your home (each items sold separately). Hafele offers an extensive collection of unique cabinet hardware including specialty knobs, pulls, and handles. Available in brass, steel, zinc, aluminum, wood, ceramic, plastic, nylon and many different combinations.
Dimensions:
(W = side to side) (D = front to back) (H = top to bottom)
Total Width: 30mm (Actual Size), 1-1/4" (Approximate Size)
Total Height: 30mm (Actual Size), 1-1/4" (Approximate Size)
Projection: 29mm (Actual Size), 1-1/4" (Approximate Size)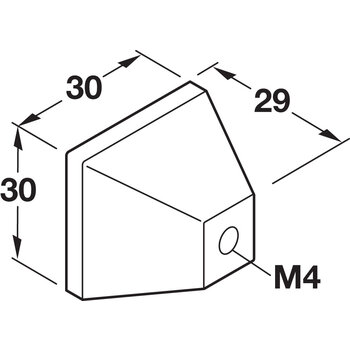 | | |
| --- | --- |
| Weight | 0.21 lbs |
| Dimensions | 1.57 × 1.57 × 1.57 in |
| Brand | |
Best offers
Join Risk Free
30 days refund
100% Safe
Secure Shopping
24x7 Support
Online 24 hours
Free Shiping
On orders over $99

Craft Supply is a diverse wholesale distributor of hardware and fitting systems, plumbing supplies, heating supplies, valves and fittings, waterworks and drainage, faucets and fixtures, tools and other equipment as well as many other specialty products within the industry.
Know More