Brand
12

16

14

64

155

11

10

2

3

6

2

101

2

23

292

85

6

9

1

156

1

63

5

3

1

2340

12

9

4

6

17

4

12

5

149

1434

1279

2

18

2

2

10

2

4

47

134

14

9

18

1676

8

43

4

5

4

92

10

7

13

10

1

1

7

2

1

7

1

35

1

13

17

2

2

1

1

1

8

1

75

1

6

8

1

1

12

13

8

10

1

14

60

194

7

14

2

7

6

2575

1

6

1

89

11

6

9

5

13

18

13

1

2

10

2

5

2

1

3

13

5

15

1

4

11

4
Show value(s)
Size
1

1

1

1

1

1

210

2

2

3

1

1

3

31

4

4

6

3

1

5

22

4

4

5

4

3

4

1

1

1

3

6

4

3

1

3

1

18

19

149

2

1

2

3

3

2

22

1

5

5

4

5

20

4

1

1

1

1

1

22

4

3

2

3

1

1

1

1

154

3

4

1

1

3

2

28

4

4

4

5

2

1

1

27

5

4

6

5

1

1

202

2

9

1

1

10

7

1

2

1

1

2

1

12

17

1

1

2

1

65

2

4

7

1

1

2

1

1

1

54

1

1

1

1

5

1

1

1

1

1

1

1

1

1

6

3

1

4

2

1

1

1

1

1

2

1

1

1

1

1

1

1

1

1

1

2

4

2

1

1

1

1

1

1

1

2

2

2

2

2

2

2

1

1

1

1

1

1

1

1

1

1

1

1

1

1

1

2

1

1

2

1

1

2

1

1

1

1

3

1

1

1

1

1

1

1

1

1

2

1

1

2

3

1

1

3

2

3

1

1

1

1

1

1

5

1

1

1

1

1

1

1

1

1

1

1

1

1

1

1

1

1

1

1

1

1

2

1

1

2

1

1

2

1

1

2

1

1

1

1

2

1

2

1

1

1

2

1

1

1

1

1

1

1

1

2

2

1

1

1

1

1

1

1

1

1

1

5

2

2

1

1

1

1

1

2

1

1

1

3

1

1

2

1

4

1

1

1

1

1

1

1

1

1

1

1

1

1

1

1

1

1

1

1

1

1

4

3

1

1

1

1

1

3

1

1

2

1

1

2

1

1

2

1

1

1

1

1

3

2

2

1

1

2

1

1

1

1

1

3

1

2

1

1

1

1

1

1

1

1

1

1

1

3

1

1

1

1

1

1

1

1

1

1

1

1

1

80

13

10

8

3

1

1

1

1

1

1

19

1

1

1

1

3

5

3

2

4

181

40

4

3

5

2

3

3

22

3

3

2

1

3

1

20

1

1

4

4

15

5

1

1

2

2

3

4

3

2

16

3

1

1

1

1

1

1

1

1

1

2

1

2

4

1

1

2

1

1

1

1

1

1

1

3

1

3

1

2

1

1

1

1

1

2

1

1

1

2

2

1

1

2

2

1

1

1

1

1

1

1

1

1

1

1

1

1

1

1

1

1

1

1

1

1

1

2

1

1

1

1

1

1

1

1

3

2

1

1

1

1

2

2

3

1

1

1

1

1

1

1

1

1

1

1

1

1

1

1

1

1

1

1

1

1

1

1

1

1

3

2

1

1

1

1

135

13

7

5

12

1

1

31

1

1

1

1

1

2

1

1

1

1

1

1

182

4

27

4

6

7

4

1

2

1

1

1

1

1

9

1

2

10

1

76

5

10

16

5

1

2

1

1

17

2

2

2

1

1

2

1

1

2

1

1

1

1

1

1

2

1

1

1

1

1

1

1

3

4

1

3

1

2

1

1

1

1

1

2

1

1

1

1

1

1

1

1

1

1

1

1

1

1

1

1

1

1

1

3

1

2

1

1

1

1

1

1

1

1

1

1

2

1

1

1

6

1

2

1

1

1

1

1

1

6

1

1

1

112

5

1

2

10

28

3

1

1

1

1

1

1

1

1

29

1

2

1

1

1

1

1

1

1

2

3

1

1

1

1

1

1

1

1

1

1

2

2

1

2

3

1

1

1

8

1

1

1

2

12

1

34

6

5

6

3

1

1

20

4

1

1

2

2

5

1

1

1

1

1

1

1

1

1

1

1

1

1

1

1

1

1

1

1

1

1

1

2

1

2

1

1

1

1

1

41

1

1

1

3

5

7

10

5

1

1

1

1

1

1

1

1

1

1

1

1

1

2

1

1

1

1

1

1

1

1

1

1

1

1

1

2

1

1

1

2

2

1

3

1

11

1

1

27

1

2

5

2

6

1

1

1

1

1

1

1

1

1

1

3

1

1

1

1

2

1

1

1

1

1

1

1

2

1

2

1

1

1

1

2

1

1

1

1

2

2

1

1

1

1

1

1

1

1

1

1

1

1

1
Show value(s)
Watts
1

1

1

1

17

2

4

1

1

4

1

1

4

1

1

2

1

1

1

1

1

6

1

4

2

1

1

1

1
Show value(s)
Seer
2

4

2

1

3

1

1

3

3

18

3

3

17

3

12

3

1

1

1

1

21
Show value(s)
Price
(10411)

(1153)

(541)

(267)

(503)

(90)

(41)

(36)

(23)

(122)
Show value(s)
Color
5

11

1

1

1

8

22

1

1

1

1

4

1

2

8

1

1

61

2

1

2

1

1

1

1

2

1

1

5

10

10

1

1

1

1

1

1

1

1

1

1

1

1

1

1

1

1

1

1

1

12

1

10

1

1

2

1

2

1

1

1

1

1

1

4

1

1

1

1

3

1

1

3

1

2

1

1

1

31

4

1

3

1

1

30

1

2

1

1

2

1

1

1

1

1

1

61

2

1

1

1

1

1

1

1

2

1

1

1

1

1

1

10

3

20

1

1

1

1

1

1

1

1

1

1

1

1

1

1

2

1

1

1

1

93

1

2
Show value(s)
Hafele Badge Non-Bore Single Glass Door Lock Cabinet Hinge, Keyed-Alike 40mm (1-9/16") Height
$14.76
Features:
Hafele Single Glass Door Lock
Includes: 2 Keys and 1 Strike Plate
Material: Die-Cast Zinc
Can be Used to Lock Downwards or be Used Between Double Doors
Finish: Aluminum
Non-Bore Hinge and Lock for Lightweight Glass Doors
Screw-Mounted
Available in Keyed-Alike Option
400 Key Changes
Edge Mounts to Glass Door with two ABS Plastic Screws
Closure Travel: 180°
For Glass Thicknesses 4mm (3/16") ? 5 mm (3/16")
Screws: Included (Uses ABS Screws)

Edge Strike Plate:

Material: Die-Cast Zinc
Finish: Aluminum
Press-Fit Mounted
To be Used Only with the Single Door Lock in Double Door Applications
Glass Door must be Flush with Edge of Cabinet
Edge Mounts to Cabinet
Boring Required for Press-Fit Pins: 5mm (13/64") x 9mm (3/8")
Description:
The Single Glass Door Lock Cabinet Hinge by Hafele mounts to edge to glass door with two ABS plastic screws, measures 40mm (1-9/16") in height, available in an Aluminum finish with a Keyed-Alike option.
Dimensions:
(W = side to side) (D = front to back) (H = top to bottom)
30mm (1-3/16") W x 37mm (1-7/16") D x 40mm (1-9/16") H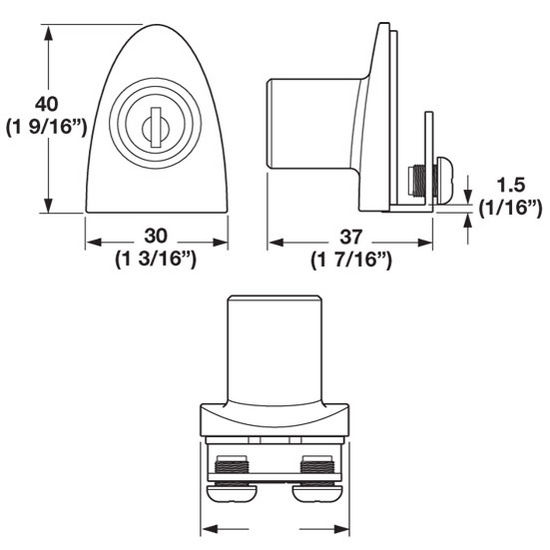 | | |
| --- | --- |
| Weight | 0.23 lbs |
| Dimensions | 2 × 2 × 1.65 in |
| Brand | |
Best offers
Join Risk Free
30 days refund
100% Safe
Secure Shopping
24x7 Support
Online 24 hours
Free Shiping
On orders over $99

Craft Supply is a diverse wholesale distributor of hardware and fitting systems, plumbing supplies, heating supplies, valves and fittings, waterworks and drainage, faucets and fixtures, tools and other equipment as well as many other specialty products within the industry.
Know More